National Geographic Traveller Magazine View Basket
To order this holiday brochure for FREE delivery to your home or computer, click the GET THIS FREE button.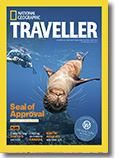 This brochure is no longer available on this website.
Editor's Letter
There are places for which you can never quite prepare, regardless of how many photographs you've seen or evocative words you've read. A few years ago, when I arrived in India's north to
tour Rajasthan for the first time, our small group caught the train from Delhi to Agra. The immense surge of humanity pressing through the station's security gates and the landscape gradually revealing itself as the sun rose was exactly how I'd imagined India. Of course, our destination that day was the Taj Mahal, Shah Jahan's mausoleum for his favourite wife, which is considered the global standard bearer when it comes to love tokens.
It's now a little embarrassing to admit, but I wasn't particularly looking forward to visiting. I'd seen pictures and it held none of the allure of the Amber Fort, for instance. But photographs can be tricky artefacts, and that first glimpse of the Taj Mahal is breathtaking. Hidden from view until the moment you hit the path that leads to its platform, it is then suddenly revealed in all its shimmering glory. Get closer and the details are entrancing. And even though hundreds of people visit at any one time, it's expansive enough for you to find a spot to simply observe – both the building and the guests.
Having spent most of my life harbouring no desire to visit one of the world's most iconic sights, I'd now return tomorrow if I could. Unfortunately, I didn't get to for this issue of the magazine, but writer Jo Stewart and photographer Lauren Bath have travelled through India's north visiting the Taj Mahal and its many other sights, both epic and modest.
Speaking of epic, when it comes to travel experiences there are few as encompassing as a long walk. We sent Justin Walker (fitting name, don't you think?) to traipse through the stunning red landscape of Utah, and also uncovered 15 of the great adventures you can have on foot. Some are remote, others based in major cities around the globe, but all offer huge rewards.
CARRIE HUTCHINSON
This brochure covers the regions and holiday types listed below. Click on the links to see more free travel brochures covering the regions and holiday types you are interested in.