Africa, Egypt & Middle East View Basket
To order this holiday brochure for FREE delivery to your home or computer, click the GET THIS FREE button.
Your Choice of Tailor-Made Independent Holidays
South Africa | Zimbabwe | Zambia | Botswana | Namibia | Kenya | Tanzania | Uganda | Rwanda | Ethiopia | Madagascar | Mauritius | Jordan | Egypt | Israel | Dubai | Abu Dhabi | Oman | Morocco
Everyone who has ever been to Africa will tell you that this is a continent that gets under the skin – the memories she ignites never to be forgotten. From an abundance of wildlife adventures and encounters that are mesmerisingly bold and beautiful, to the welcoming people who embody the rich cultural heritage of this wild land, Africa is a continent that has to be experienced at least once in a lifetime.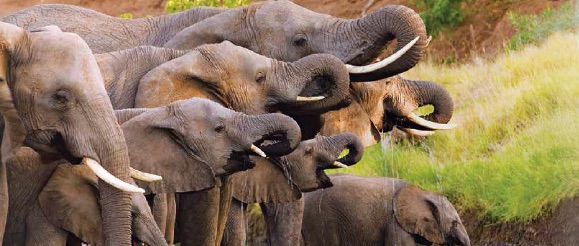 In Africa, travellers can explore wild lands steeped in ancient tribal traditions and mystique. Whether you journey through desert landscapes to meet the locals, head off on safari to encounter elephants, giraffes and big cats in Kenya, explore the Ugandan jungles in search of mountain gorillas, or drift down a peaceful delta in Botswana while the sun sets and hippos bathe, Africa offers an immensity of adventurous choices.
What makes Adventure World extraordinary?
The last light of the day has soothing golden and pink hues appearing above the Sabie River, where the deck of Tinga Lodge sits upon the water's edge. After returning from a big day adventuring in the field, when you are standing there – wildlife in sight, wilderness surrounding you, and a sundowner in hand – you'll understand why we create the journeys we do. And when you are on the verge of sleep, beneath a million stars and ensconced in a suite that brings together the essence of unique travel, you will know why so many people embark on a life-long love affair with the wonderful continent of Africa.
Adventure World will build your dream journey
For over 40 years, Adventure World has been crafting holidays for New Zealanders to spectacular and exciting lands. Adventure World is perfect for the traveller who likes to experience unique destinations in comfort and discerning style with an emphasis on exploring local cultures.
Experiences made for you
Adventure World understands that everyone is unique, and your travel experiences should be no different. How you discover the must-sees of a country, and explore and interpret the lesser-known hidden gems is entirely up to you. Adventure World is here to help you to create YOUR adventure of a lifetime.
Adventure World can tailor-make your trip, creating an itinerary perfectly suited to you. Adventure World's expert travel designers have all travelled extensively and so can help you to build your own journey and embrace your own travel style.
Browse through Adventure World's extensive range of recommended journeys in this brochure and choose from one of the scheduled trips or contact your travel agent to build one of the tailor-made itineraries with Adventure World's travel experts, find the elements that you love and mix and match them.
Upgrade your accommodation, change a tour or extend a trip. It's up to you. Create your own itinerary using our recommendations and Adventure World can help you build the perfect journey.
So think about where you want to go and where you want to stay, what sightseeing tours suit you, where you want to eat, and if you want to join up with other like-minded travellers. It's that easy. Let Adventure World help you to create an experience that will suit your price range and travel style. By doing so, you'll create memories for a lifetime.
Be inspired
Do your research, read this brochure and create your wish list.
Get planning
Talk to your local travel agent to start planning your journey.
Book your trip
Your travel agent will contact Adventure World to book your adventure and you'll soon be on your way.
Share your journey
While travelling or when you return, share your travel adventures and hashtag your posts.
In This Brochure

SOUTH AFRICA

Handpicked South Africa & Victoria Falls
South African Panorama
Cape & Kruger Culinary Safari
South Africa's Unique Lodges
The Blue Train
Rovos Rail
Shongololo Express
Kruger to the Cape
Wild Kingdoms Safari
Makutsi Classic Safari
Makutsi Walking Safari
Rhino Walking Safaris
Winelands & Garden Route Self-Drive Safari
Cape Winelands Escape
Garden Route Discovered
Garden Route Safari & Winelands Wonder

BOTSWANA

Handpicked Botswana & Victoria Falls
Jewels of Botswana
Wings over Botswana
Botswana Classic Explorer
Okavango Splendour
Best of Botswana
Chobe National Park
Zambezi Queen
Chobe Princess

ZIMBABWE & ZAMBIA

Discover Zimbabwe
Victoria Falls & Chobe Wildlife Encounter
Royal Zambezi Safari
Discover Mfuwe
Victoria Falls & Hwange
Zambia Hotels & Lodges
Zimbabwe Hotels & Lodges

NAMIBIA

Extraordinary Namibia
Sossusvlei by Road & Beyond Sossusvlei Desert Lodge Fly-in Safari
Namibia Southern Odyssey

EAST AFRICA, KENYA & TANZANIA

Handpicked Kenya & Tanzani
Migration, Lake & Crater Safari
Wilderness Tented Safari
Kenya Classic
Kenya Horizons
The Pioneer's Safari
Treasures of Kenya
Saruni Experience
Elewana Sky Safari Kenya
Elewana Sky Safari Tanzania
Kenya's Unique Lodges
Untouched Selous & Ruaha
Mount Kilimanjaro
Kilimanjaro – Lemosho Route
Simba Safari

Lemala Tanzania
Luxury Treasures of Tanzania
Serengeti & Ngorongoro Crater Fly-in
Zanzibar Hotels
Gorillas & Masai MaravHandpicked Uganda
Gorillas through the Mist
Mountain, Gorillas & Lakes/li>
Handpicked Ethiopia

MADAGASCAR

Handpicked Madagascar/li>
The Remote West/li>
Taste of Madagascar/li>
Nosy Be Island Escape

MAURITIUS

MOROCCO

Handpicked Morocco/li>
Imperial Cities/li>
Grand tour of Morocco/li>
Highlights of Morocco/li>
Peaks & Valleys of the Atlas/li>
Jebel Sahro Ride & Marrakech

EGYPT

Handpicked Egypt/li>
Nile Cruising/li>
Essential Alexandria/li>
St Catherine's & Mt Sinai/li>
Essential Aswan

ISRAEL

JORDAN

Best of Jordan/li>
Essential Amman/li>
Essential Dead Sea/li>
Essential Petra

DUBAI

Off Road Adventure in the Emirates/li>
Discover the Emirates/li>
Dubai Stopover/li>
Dubai Heritage Stopover/li>
Dubai Hotels

ABU DHABI

OMAN

Experience Muscat/li>
Arabian Explorer/li>
A Journey through Arabia/li>
Turtles by Night/li>
Fjords of Musandam/li>
Arabian Nights/li>
Experience Salalah

MOROCCO

Handpicked Morocco
Imperial Cities
Grand tour of Morocco
Highlights of Morocco
Peaks & Valleys of the Atlas
Jebel Sahro Ride & Marrakech
This brochure covers the regions and holiday types listed below. Click on the links to see more free travel brochures covering the regions and holiday types you are interested in.